GTCO Roll-Up III
The Roll-Up III digitizer series is engineered with GTCO's exclusive patented redundant Grid Technology which substantially improves the durability and ruggedness of this digitizer series making it the only choice for true portable use.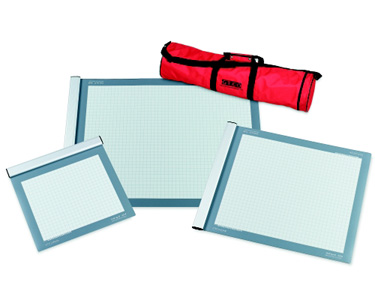 Native USB connectivity allows power to be supplied via the USB port. Installation is quick and easy - WinTab applications use the Roll-Up III's plug-and-play feature and non-WinTab applications use GTCO's exclusive one-step SuperSet menu. Both options allow immediate connection to a PC for use with a wide variety of applications, making the Roll-Up III versatile for use in the office or on the road.
Portable, light weight Roll-Up III digitizers are only 1/8 inch thick allowing them to be easily rolled for storage or transport to various task sites. Built with advanced materials, including a tough Lexan ® work surface, Roll-Up III digitizers lay flat, maintain a smooth work surface and feature flexible dual orientation that allows the controller housing to be configured on the right or left edge of the digitizer.
Easy to Use
• Native USB support allows digitizer to be powered
through the port on your computer
• Plug-and-play feature allows for quick and easy
start up for WinTab applications
• SuperSet Me Menu provides one-step configuration
for non-WinTab applications.
Portable
• Extremely light weight
• Only 1/8 inch thick and easily rolled for storage
or transport to various task sites
• Optional travel case available
Accurate and Flexible
• Innovative sending technology and precision
transducers provide 2,540 lpi resolution
Dual orientation allows digitizer to be used with controller housing oriented on the right or left edge of the digitizer (30x36 and 36x48 models)
Durable and Dependable
• State-of-the-art materials
• Durable, tough work surface

Backed by a Two-Year U.S. limited warranty and free technical support